Welcome to Cooper University Health Care Online Bill Pay.
Cooper University Health Care patients now have the option to pay their bill online. Designed for your convenience, our online bill pay system is:
Easy to use - Just complete the simple form and your payment work is done.
Fast - Your card is processed within one business day and you receive a receipt by email.
Convenient - You can create a profile with your information to save time when you return.
Safe and private - Our secure website protects your credit card number so it can't be seen by anyone, ever!
Free - There is no fee for this service.
Create an Account
By creating an account, you'll be able to view a 12-month history of your statements beginning with any mailed after July 11, 2014, as well as print statements, receive email notifications and monitor your accounts. Get started.
Login to My Account
Once you have created an account you may login at any time using your email address and password to access your account. Login now.
To make a payment without creating an account or logging in, simply click on one of the payment options below.
About Your Bill
For the convenience of our patients, as of July 11, 2014, Cooper is now providing a single, combined statement for both hospital and physician charges. However, you may have separate physician and hospital bills that you received prior to this date. You may pay any of these bills online. Please click on any of the bills below if you would like to learn more about them.
| | | |
| --- | --- | --- |
| Combined Bill (after July 11,2014) | Hospital Bill (before July 11, 2014) | Physician Bill (before July 11, 2014) |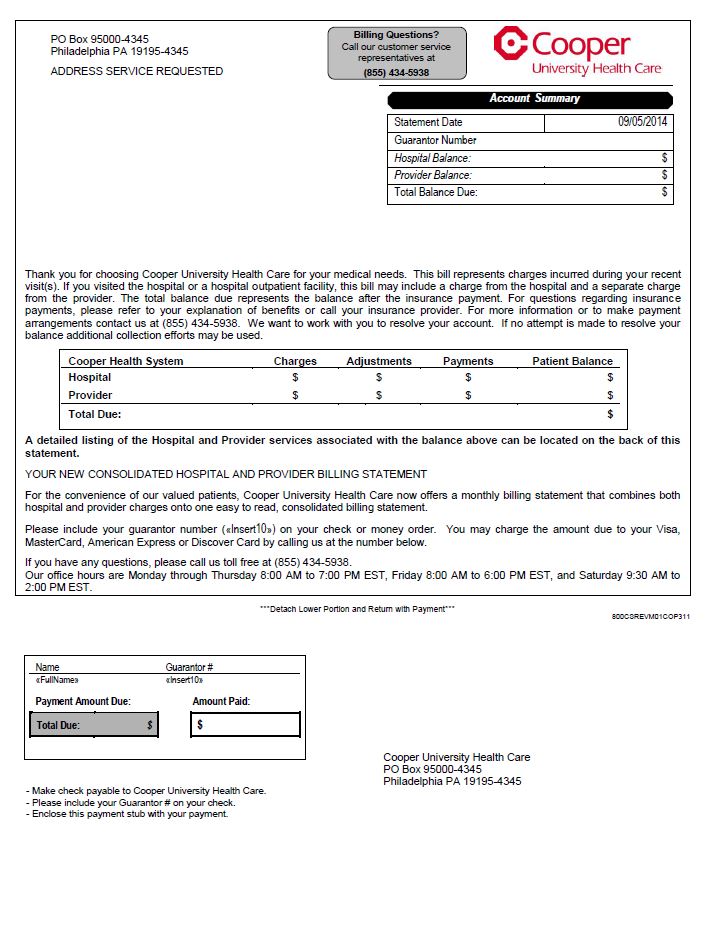 If you have a question about your bill, or if you would like to pay your bill by phone, please call us toll-free at 1.855.434.5938 to speak with one of our customer service representatives.
Click here
for days and hours of operation.